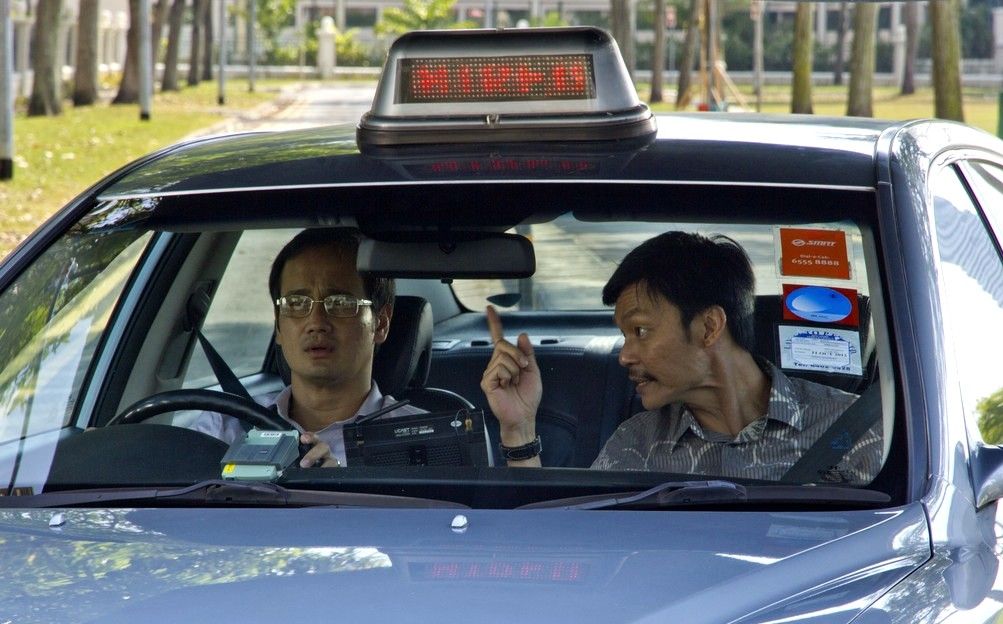 Opinion:
B-
By Jason Lin
Without venturing towards any of the extreme ends of the genre yard, Singapore filmmaker Kelvin Sng's first full length feature film satiates relatively well with a comfortable balance between comedy and melodrama. With a firm direction, albeit somewhat loose in terms of plot continuity, Taxi! Taxi! doesn't forget its key deliverable to relay the "daily-hood" of Singapore's taxi drivers and some food for thought on how the native society perceives the profession.
The movie follows the trials and tribulations of a retrenched microbiology scientist, Professor Chua, as he turns to taxi driving after several failed job attempts. Along the way, he befriends (although they didn't quite start off as friends from the get-go) a veteran taxi driver, Ah Tau. The two men, who appear to be polar opposites of each other in every aspect from educational levels, personalities, attitudes toward life and even the languages that they speak, eventually find themselves interdependent and influencing each other in ways that they probably had never imagined possible.
People relate to a fair share of heartland stories and issues that engulfs their daily lives. Singapore films often adapt such familiar materials to establish and develop cinematic case studies for the native audience to ponder. In order to cater towards the palates of the majority of film viewers, entertainment values are often prerequisites determined by producers and film investing stakeholders. Here in Taxi! Taxi!, it is interesting to note that the production does not overkill with a saturation of such values and manages to strike a fair balance.

One will indeed not find oneself roaring in uncontrollable laughter, but nobody should step into a Singapore film expecting such unless its genre obligations are meant to be so. The Singapore film scene has evolved over a credible amount of time and have well matured to understand that local cinema encompasses a variety of film materials and expectations. Likewise, film lovers/consumers are also gradually expecting more from such productions.

Sng's film is inspired by blogger Dr Cai Mingjie's publication "Diary of a Taxi Driver" entailing his real life account as a taxi driver in Singapore. The story (scripted by Boris Boo, Lee Chee Tian, and Violet Lai) sets up a Prof Chua (Gurmit Singh) who's struggling to remain relevant and employed within the competitive academic research industry after being laid off by a research lab. Frustrated by various unsuccessful job interview attempts, Chua decides to drive a cab for livelihood after encountering a carefree taxi driver Ah Tau (Mark Lee).

A gradual rise is depicted where ex-executives/professionals are transiting to taxi driving. While a fraction of the cause might have derived from the economic downturn, social prejudice is broadly discussed in Sng's film that interestingly has not deterred high-flying professionals such as Chua.

Besides social opinions, Chua is also subjected to family pressures where high remuneration and high-esteemed prestige are still highly regarded as a measurement of dignity and success. It is a real situation in today's society where materialistic elements sadly induce painful domestic dilemmas that plague people like Chua.

It is admirable that the film material proceeds to observe not just the perspective of one who falls from the social ladder (Chua), but also scribe in the tale of one who thrives within the lower class (Ah Tau) for contrast. While there are distinct woes affecting the two respectively, both are similarly facing a critical time in life due to their problems.

Taxi! Taxi! is unfortunately not without certain downfalls. Uneven narration continuity and acting are some of the key issues observed in opinion. The transition between some of the scenes felt somewhat disjointed and reminds of a "sitcom" treatment. Despite an overall affecting performance, minor sequences such as the one where Chua slaps his son (Royston Ong) felt poorly orchestrated.

The chemistry between the key cast members are adequately influential. For instance, seven year old YouTube sensation "Dr Jiajia" Chua Jia Sen, whose Singlish-sprouting stint contributes a high amount of screen presence that allures the audience with an uncanny mix of adorable childlike innocence and adult dialogue content. Malaysian artiste Gan Mei Yan had a feature scene that allowed her to put her acting chops to test. The other supporting characters such as Lai Meng and Jazreel Low however, seem to be underused.

Photography is overall pleasantly clean and sharp. Some of the driving scenes however do not come across as realistic, which is possibly the result of visual enhancements during post-production. Reportedly shot under three weeks, a tight shooting schedule may have imposed technical challenges.

Taxi! Taxi! may not be an exceptional film, but it remains on track to deliver certain thematic messages thanks to Sng's focused direction. Similar film productions could have easily forgotten its main intentions after spending effort catering for mass appeal and stakeholders' satisfaction. Sng's film has secured to become one of the better Singapore films to start the new year with.