Opinion:
B-
By Jason Lin
Not quite as witty and self-centred as previous Die Hard instalments, A Good Day to Die Hard does however rack preposterous action and massive destruction at will. Without a credible story to bank upon, the blatant action does however allow the production the opportunity to produce stunning visuals and particularly sound design and mix. Jai Courtney exudes good potential as a future action franchise star vehicle and submits a sizeable screen presence, but it is Bruce Willis who still manages to command a robust charm and finesse despite his seasoned age.
Bruce Willis returns in his most iconic role as John McClane - the "real" hero with the skills and attitude to always be the last man standing. This time the take-no-prisoners cop is really in the wrong place at the wrong time after traveling to Moscow to help his estranged son Jack. With the Russian underworld in pursuit, and battling a countdown to war, the two McClanes discover that their opposing methods make them unstoppable heroes.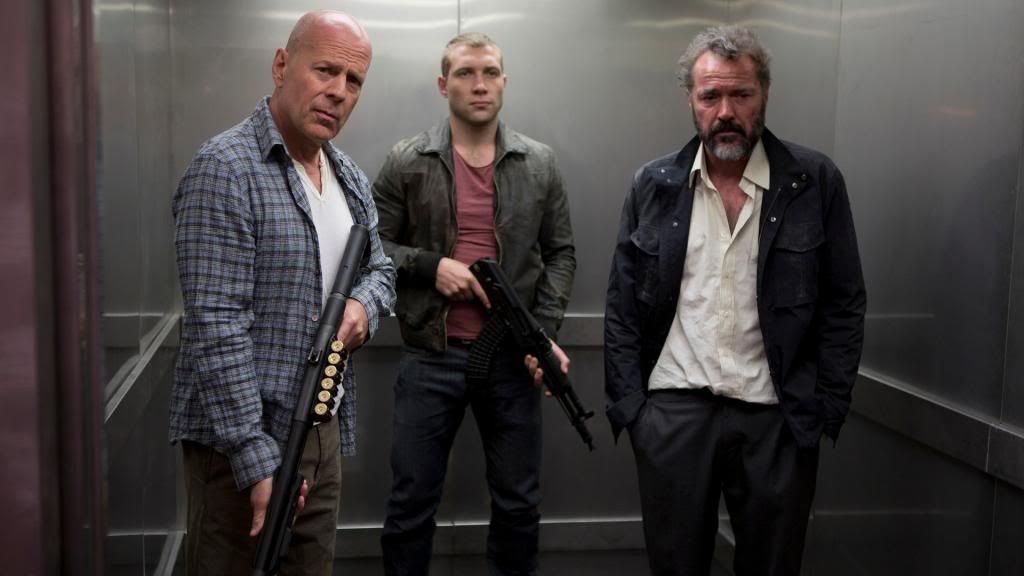 One of Hollywood's most exportable Cop Hero returns to Die Hard for the fifth time. It is therefore truly regrettable to see that our dear John McClane has lost his flair for humourous sarcasm as well as a slight amount of screen presence in contrast to his rising co-lead Jack McClane. Although it may be seen as the screenplay's weakest attempt at generating an excuse for a story excuse towards a new sequel, it may also be a hint at a base-line foundation set up to ready Willis' transition for his subsequent successor.

Just who will be ready to live with another Die Hard movie without Willis?

On an objective note, Courtney does not come across as an enthusiastic protagonist who goes overboard and eager to justify his merits for a new career in a popular action franchise. His character does not say much, keeps pretty much a straight face throughout (except for his lacklustre attempts at portraying excruciating pain where he removes an iron rod bit out of his abdomen), and is ready to strike without being too trigger-happy. Think of a less charming, less witty, and younger Jason Statham.

The Die Hard series attracted fans and filmgoers alike largely for John McClane's crudely sarcastic and badass LAPD cop with a signature catchphrase "Yippee-ki-yay, motherf**ker" (that has been frustratingly censored multiple times in this screening, in aim of achieving a fairer rating that is more family-friendly). McClane as a vigilante reluctant hero with a never give-up attitude has always been the primary draw, but this has sadly been watered down in A Good Day to Die Hard.

Aside from a weak and unrealistic screenplay by Skip Woods, there is nothing much one can do about it that is also further compounded by a lacklustre narrative direction by John Moore. Thankfully, Moore is more of an action director and for this he instills a high degree of saving grace through the unleashing of relentless action that should satisfy most (if not all) action fans.

From the heart-racing highway chase that sees exchange of bazookas and heavy firearms to a grand finale where massive destruction takes place in Chernobyl Plant, Ukraine, it cannot be more impactful without its exceptional sound design/mix that greatly excites the strong visual attacks. This gives it a good reason for one to experience the film in a theatre with technically well-equipped sound system, particularly when it is also available in a Dolby Atmos mix.
It is a pity to see McClane's daughter Lucy (played by Mary Elizabeth Winstead) being relegated to a meagre single scene with only a notable line that reminds McClane to try not to mess things up any worse if possible. It will be interesting to see Lucy as a plot thread involvement to spice the story up. Antagonists written in this film are disposable at best, with only a memorable casual scene where McClane tries to deliver Russian to a Moscow taxi driver (Pasha D. Lychnikoff) who in returns sings back.

A live cartoon (due to an implausible script that devises near-impossible action sequences, uninspiring linear dialogues, and not taking John McClane's age into serious consideration) action film that delivers only solid action and negligible storytelling, A Good Day to Die Hard is likely the reason why McClane keeps reminding people that he is on a vacation in Moscow.

A proud entertainer without any serious business to address.