Opinion:
B
By Jason Lin
A pilot production by new online multimedia platform initiative
Toggle
, Writer-Director Lee Thean-Jean takes on delicate traits and issues of three couples' love lives through three different age perspective. Maintaining a comfortable balance between casual lifestyle and romance ambiguity, the concisely paced telemovie engages well with interesting scripted characters.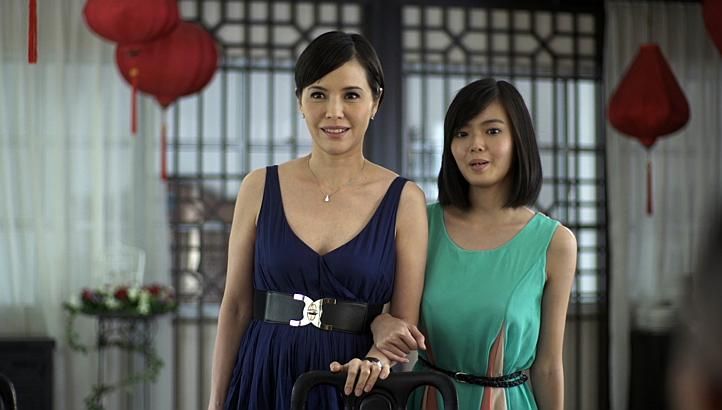 LOVE ... and other Bad Habits is a light-hearted, sometimes heartfelt, look at three different kinds of relationships in Singapore, from teen infatuation to the nuances of adult relationships.
Mei (Zoe Tay) and Chin Wei (Chen Han Wei) are a divorced couple who might be on the path to reconciliation and a rekindling of romance when their best friend, Suzy (Kym Ng) comes between them.
Mike (George Young) and Jess (Carmen Soo) are two professionals who seem to be more dedicated to their careers than each other, until a workplace dilemma forces them to, literally, take action. Add to the mix a difficult client, Mrs Cheng-Cheng (Irene Ang), and the tension is set to explode.
Darrell (Ian Fang) has a crush on schoolmate Ann (Kimberly Chia), but is afraid she thinks he's too crass and lowly for her. Enter social media, and a case of mistaken identity, turns their lives upside down.
Many others have dwelled into the complex issues plaguing love relationships, with so many typically treading towards melodramatic climax/ending. It is therefore interesting to observe how Lee focuses his romance drama on the bad habits of love, or rather the silly little nothings that often get in the way of happy endings. Be it a teenager who often acts against his/her emotional intentions or the stubborn prime work force lover who tends to be blinded by career over love. There is also a feature on a married couple who had been too used to each other over their fifteen years of mundane marriage, often saying things that they don't mean too quickly.
At the end of the day, the demeanour acts something while the heart speaks another. The only similarity between them, as depicted by Lee, is their irrationality. There's simply no reason and rules to govern love, likewise all the silly little nuanced acts that people portray for the sake of self-denial are groundless. Since there is nothing much we can do about them, there's no stopping one from discussing it on the silver screen.
Through relatively well-scripted characters in the form of three couples, Lee takes on the Singaporean love story and the challenges it faces on a daily basis. Love faces different issues at different life phases, thus the setting of three couples at various age groups. These stories are also narrated through the colloquial tongues and behaviour, where the script sees the characters flipping between English and Mandarin within a single phrase or sentence.
Performance credentials are obvious in George Young as Mike, an advertising creative professional in his prime years. While a little too polished to be taken as a natural, his character does however reflect his kind - highly educated individuals who are savvy and distracted by life's temptations. While veterans Chen Hanwei and Zoe Tay do keep up the good work, it is nothing exceptional and something viewers have already been used to.
Peeking with hints of potential is Kimberly Chia who fits into her teenage school girl role like a glove. Her co-lead partner Darrell, played by Ian Fang, does wonders with his sincere and shy personality who's facing love perplexity issues. With little words and unexpected burst of reactions, Fang does tender his suitability for cinema acting where realism is preferred over theatrics.
Never belittle the supporting characters that add much amusing zest to the film with giggle-inducing comedy acting, particularly Zoe Tay's bridal boutique colleague whose character is remarkably written to impress.
Complementing the critical scenes with some soothing apt ballads by
Sarah Cheng-De Winne
, the production also features sharp photography albeit observing certain inconsistent colour grading throughout the film. Subconsciously recalling, the colour palette may have been couple specific but this is not confirmed.
Under the helm of Lee,
LOVE... and other Bad Habits
makes a pleasant and enjoyable telemovie that never goes over the top but instead focuses on the nuance moments held between couples who believe and continue to believe in love. If this is the trend of future
Toggle
productions, this opinion will be keen to be on a firm look out.