Opinion:
B
By Jason Lin
Envisaging a luscious setting that is saturated with dynamic colours and imaginative art direction is how director Sam Raimi captivates his audience on first sight. Looking beyond the CG-licious Emerald City and the Yellow Brick Road, it is arguably a lengthy visual exercise to merely convince viewers that anything is possible if one just believes. Adding certain signature filmmaking traits, such as the occasional jumpy scares as Raimi does in his better genre, there is sufficient reasons to sit through Oz the Great and Powerful for the technical sight and sound along the way but not for the symbolic journey down the Yellow Brick Road.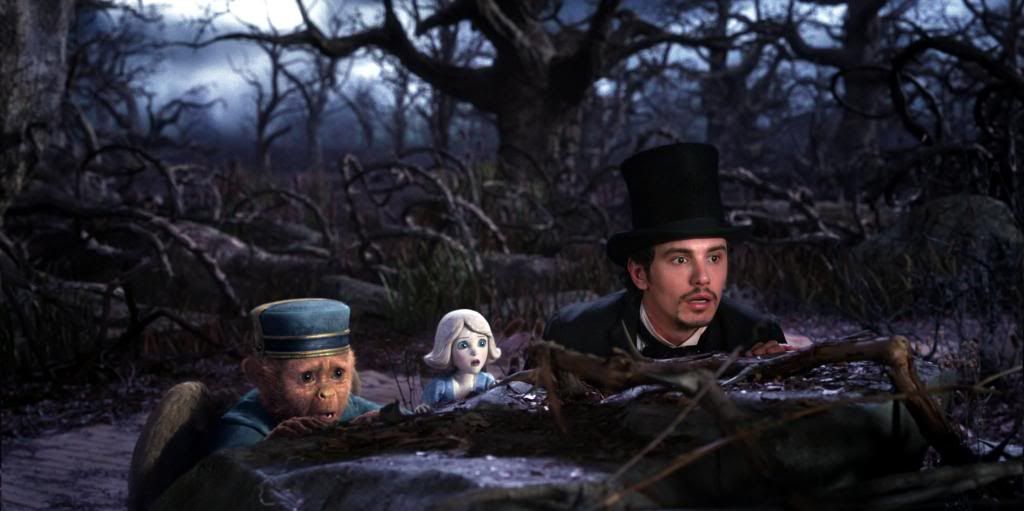 When Oscar Diggs (James Franco), a small-time circus magician with dubious ethics, is hurled away from dusty Kansas to the vibrant Land of Oz, he thinks he's hit the jackpot--fame and fortune are his for the taking--that is until he meets three witches, Theodora (Mila Kunis), Evanora (Rachel Weisz) and Glinda (Michelle Williams), who are not convinced he is the great wizard everyone's been expecting. Reluctantly drawn into the epic problems facing the Land of Oz and its inhabitants, Oscar must find out who is good and who is evil before it is too late. Putting his magical arts to use through illusion, ingenuity--and even a bit of wizardry--Oscar transforms himself not only into the great and powerful Wizard of Oz but into a better man as well.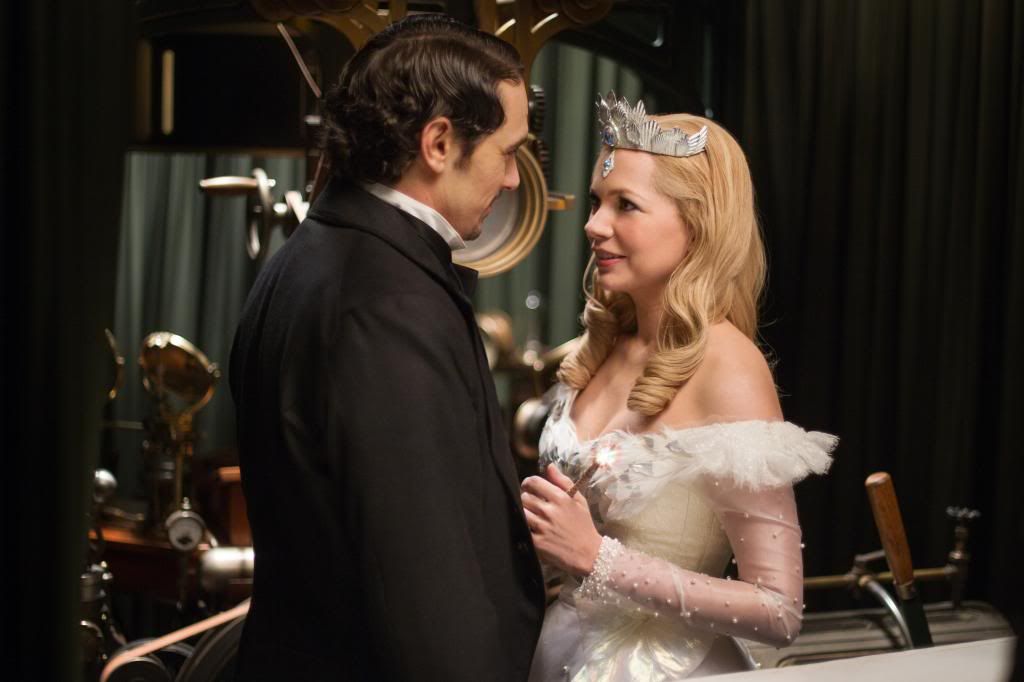 Beginning with a well-designed opening title sequence of circling patterns and motion graphics, one might observe that the film begins with a black and white canvas of a boxy aspect ratio in tribute to the 1939 original. Before one thinks that the film will be a comfortable prequel of sorts to The Wizard of Oz, Raimi has to ensure that no explicit reference of similarity can be in his film due to copyright issues.
With that in place, he may have the restriction of references but the flexibility of new ideas and ways of implementation.
Managing to work around almost everything from flying baboons to brief hints of scarecrows and lion, the ruby slippers are however nowhere to be seen or reminded. The new elements of re-imagination are often mesmerising to one's eyes, which are dished out plentiful in CG. 3D images shot on the RED camera are gorgeous as the details remain clearly visible under comfortable brightness through the 3D glasses. With some of the scenes being clearly devised for that "amusement park ride" thrill, it is also recommended for one to journey to the Land of Oz in IMAX 3D.
Switching the protagonist from a young Dorothy to a cheeky Oz, the Wizard of trickery imposes an even sense of whimsical nonsensicality that seems to be mocking at everything and everyone less women and gold. He is a selfish and mean character who doesn't care much about those around him. Therefore it is very difficult to see how it is possible for his transition from the sloppy carefree spirit to Oz the great and powerful wizard as this opinion finds him hard to believe.
Without all the clear pros of the original, particularly the symbolism that the classic was filled with, Raimi's film is clearly an outstanding film of entertainment. Be it the three alluring witches or the adorable flying monkey and China Girl, the characters are fun to watch albeit superficial character development. Take for instance Mila Kunis' Theodora whose beginning presence is magnetic but soon fizzles out to Michelle William's charming performance as Glinda. Rachel Weisz may have a vicious demeanour in the film but doesn't add further to one's impression of her role.
James Franco likewise felt like he has it too easy cruising his performance with a relentless grin on his face throughout the 130 minutes. While Dorothy's interaction with the Scarecrow, the Tinman, and the Lion were metaphors in the original, Oz's interaction with the various characters he meets feels more like a series of meaningless flings particularly with the three witches.
Nevertheless, the true value of Oz the Great and Powerful is in its production values. With very capable technicalities one finds it difficult not to enjoy the film as it is depicted. Much like how Oz deceives people with tricks up his sleeves into believing that he is the one who will be saving all from the clutches of the Wicked Witch, Oz the Great and Powerful manages to entice people into satisfactory indulgence by theatrics.

Raimi and Franco sure know how to put up a good show.