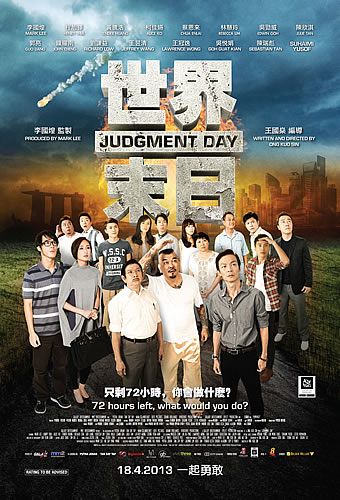 Opinion:
B
By Jason Lin
Making a bold step ahead of others into uncertainties is definitely courageous. For the better or worse, it is an admirable effort by a pioneering champion who ventures out of comfort zone so as to initiate change. Change is what is observed in Singaporean filmmaker Ong Kuo Sin's Judgment Day, a film that studies the delicate details of mankind within Singapore's society through an intriguing "end of world" theme setting. It is by far one of the better productions from Singapore's commercial film industry of late.
Four days ago, a sudden collision in outer space caused a meteorite to divert its course and head towards planet Earth. Its impact is calculated to annihilate the whole mankind. The time ticking towards mass extinction is so short that any apology from the government is deemed irrelevant. Therefore, go ahead and do whatever you want within the next 3 days. Leave behind no regrets.

The movie talks about 4 different stories featuring extreme decisions people make during extreme situations. And if the world did not end, how are they going to clear the extreme mess?

Before the world comes to an end, you are left with 72 hours. What would you do to leave with no regrets?
Singapore's mainstream cinema tends to chalk up superficially appealing genre productions like comedy and horror. These are easy to digest and serve as better consumables over precious weekends, especially in a productivity-driven society like Singapore's where time is a valuable resource. Expending time rapidly over piling workload and responsibilities, people tend to lose track and sense of time easily and often view life as a mundane entitlement that will never be taken away.

The filmmakers thus decide to take time away from people to see their response to such external drivers that are out of their control. What better ways than to introduce a 72 hours countdown to the end of the world? With a dense heart, the news anchor and Singapore's Prime Minister (cameo by Adrian Pang) delivers a disheartening breaking news of an extraterrestrial impact upon earth that would annihilate mankind. Civilised law and order is expected of the people, and it is exactly what the people followed in Judgment Day (although most expect chaos to break loose).

Plot plausibilities aside (calm social behaviour and the continuation of daily business activities do puzzle), the film attempts to discuss a few thematic issues through a multitude of stories involving different characters. There is a couple (Chua En Lai and Rebecca Lim) who is in a relationship dilemma plagued by a reminiscence of compassionate communal spirit in contrast to the typical indifferent individuals. There is a family who enters into an awkward tension induced by a father's (Henry Thia) final wish to become a woman, which later allows them to realise the definition of true love and sacrifice. There is one that banters along the borders of moral codes of ethics involving two police officers (Mark Lim and Wang Yuqing), which is further confused by benign intentions. There is one on forgiveness that is strained and tested by the infidelity of a married couple (Alice Ko and Tender Huang) within a tempting career-driven society. Finally, there is one on faith where a medium's religious beliefs are faltering as he soon feels that it may only a symbolic source of hope and code of conduct for mankind.

Great premise and setting, the only thing is that it's too much for proportional development where some of the stories are dwelled upon more over others. Likewise for character development. There are certain cast members who feel slightly out of place, but generally they give commendable performance to help drive the story and move the audience. Take for instance Henry Thia's dramatic performance is a welcomed far cry from his standard slapstick antics. Instead of rolling eyes, Thia is actually close to tearing eyes.
Technical merits are booming as photography, colour-grading, and sound design are impressively proficient. Also of note is
Joshua Chia
's original score for
Judgment Day
that aptly accompanies the film for that sense of soul-searching apocalyptic melancholy.
Besides the character-driven themes on compassion, sacrifice, ethics, and faith, the film also features broad key messages for the audience to ponder on.
Judgment Day
commences with a 72 hours countdown towards imminent doom, which is disappointed by a scientific miscalculation (which is hard to believe by today's standards) and resumes normal life.
People's lives are rebooted even though doomsday didn't arrive. The 72 hours urge people into a bottleneck in decision-making, where everyone listens to their own selfishness and allows it to make the call. Thereafter, remorse soon greets the outcome of their decisions and gradually allows consideration of others to take priority. This forms a before and after scenario for interesting food for thought.
We've have been living our lives for others based upon a prefixed set of social and moral values that determines how we should lead our lives. It will thus be difficult for us to take a bold step away from our schedule of routined activities to truly lead a life in seek of true happiness based upon our respective definition of a happy life.
As Bill Clinton once said that the price of doing the same old thing is far higher than the price of change, we should follow the footsteps of Ong and try out different choices to enhance life vibrancy. One shall hopefully be able to look forward to a dynamic variety of Singapore films in the near future should more filmmakers be bold to take the step of change as well.
The only constant is change, which time will tell.