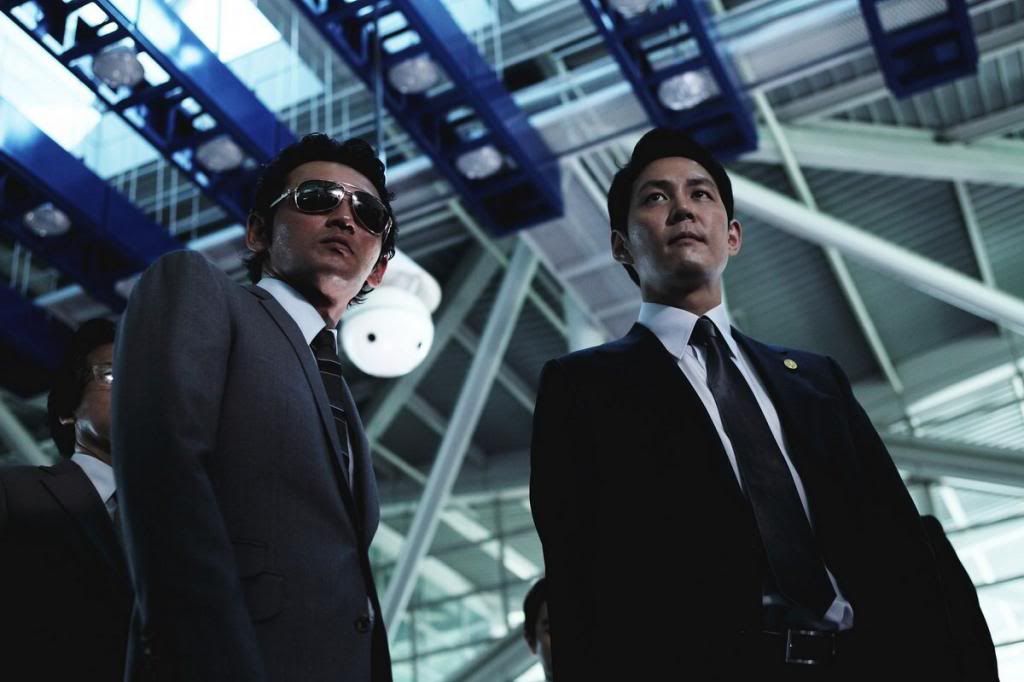 Opinion:
B+
By Jason Lin
Seemingly written with an obsession in the dynamics of the mobster's realm, Park Hoon-jung's second feature takes pain to craft a somewhat convoluted tale of an undercover cop who has to face and manage real risk of perils every second under the nose of corporate gangsters. Taking influences from other mafia genre classics (such as Infernal Affairs), the story intrigues and heightens senses albeit dragging its feet into plot details at times.
The head of the Goldmoon crime syndicate is dead, leaving his top two lieutenants. Seizing the opportunity, the police launch an operation called "New World," with the perfect weapon. The boss' right hand man, Ja-sung (LEE Jung-jae, THE THIEVES), has been a deep-cover operative for 8 years, closely watched by handler Police chief Kang (CHOI Min-sik, OLDBOY). With a baby on the way, and living in mortal fear of being exposed as a mole, Ja-sung is torn between his duty and honor as a cop, and the fiercely loyal gang members who will follow him to hell and back.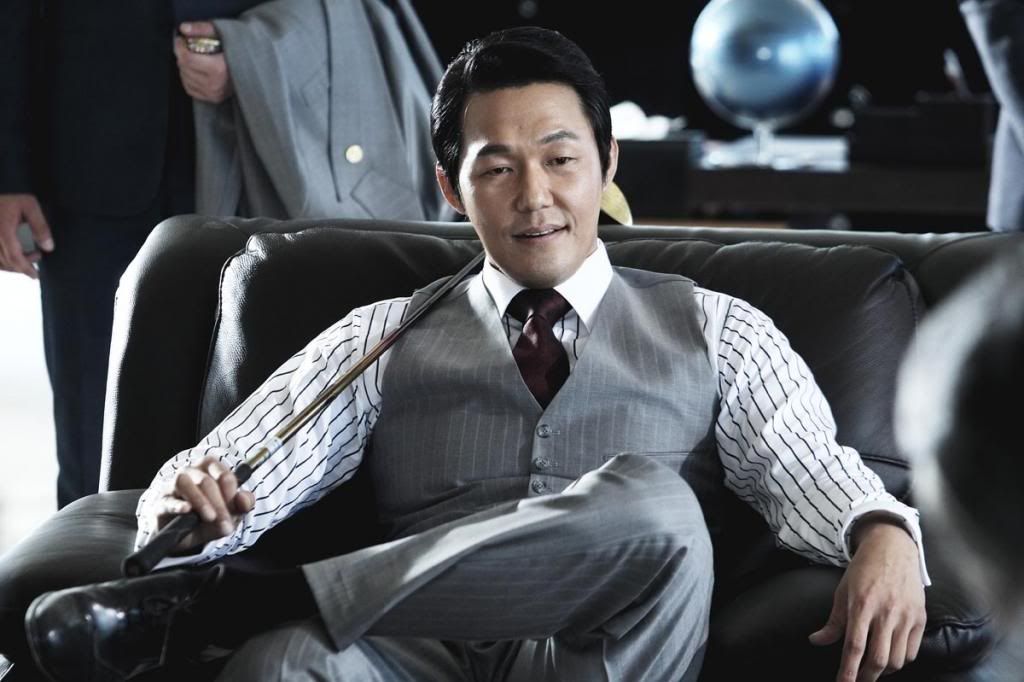 The premise begins with a planned act of violence sent to take out the head of a gangster syndicate. This leaves the organisation without clear leadership and it is natural for those next in line to vie for control. Of course, it takes more than just lobbying for votes of support within the stake-holding members.
With two key factions and one led by a veteran with a low profile, Park begins his tale of mafia politics that sends the competing factions playing games to get the better of the other. Like a game of chess, one's require to practice sound corporate strategy to outguess and outsmart their opponent. Looks like brute force and traditional gangsterism is not going to be good enough for Park's corporatised mafia world.
What's making things complex is the police's intention to influence the transition.
Drawing references from Andrew Lau and Alan Mak's Infernal Affairs are regular meetings between undercover cop Ja-seong (Lee Jeong-jae) and handler Kang (Choi Min-sik). What's interesting is Park's play on the dynamics of the two's relationship that also evolves over time. Viewers are able to feel Ja-seong's pressure and frustrations building. Imagine having to constantly decide between good vs. bad, moral values vs. fraternity loyalty, and when to cross the line for critical survival.

One can never satisfy and have the best of both worlds, but Ja-seong tries.
New World is a good revelation of the intrinsic developments within the Gold Moon syndicate and outside where the police are precariously observing them from outside and within (through their planted mole). The supporting characters and their performance are some of the most valuable complements in the film.

Particularly Hwang Jeong-min and Park Seong-woong who plays the respective competing factions' leaders, the menace and behavioural traits portrayed are so intense yet unpredictable, one is never certain what's going to happen. There is also a memorable scene that involves Hwang courageously entering into and tackling a lift full of knife-wielding men. This is where the audience obtains their thrills from. With such credible supporting cast performance, Lee Jeong-jae shine seems dim in contrast.
However, Park does dwell a little too long in certain parts of the screenplay and affairs often get convoluted. Some of the scenes play out a tad bit too long and are opined as self-indulgent, where the film might have been able to do without to shorten its 134 minutes running time.
What New World excels in is the delicate details and thrilling flux that ensue within the realm of gangsters and it has definitely benefitted from Park's passionate writing and particular vision that go well into depth. As one who has previously scribed Kim Jee-woon's I Saw the Devil that contains some of the most wicked thematic concepts, this opinion is keen to study Park's potential as a filmmaker in the future.