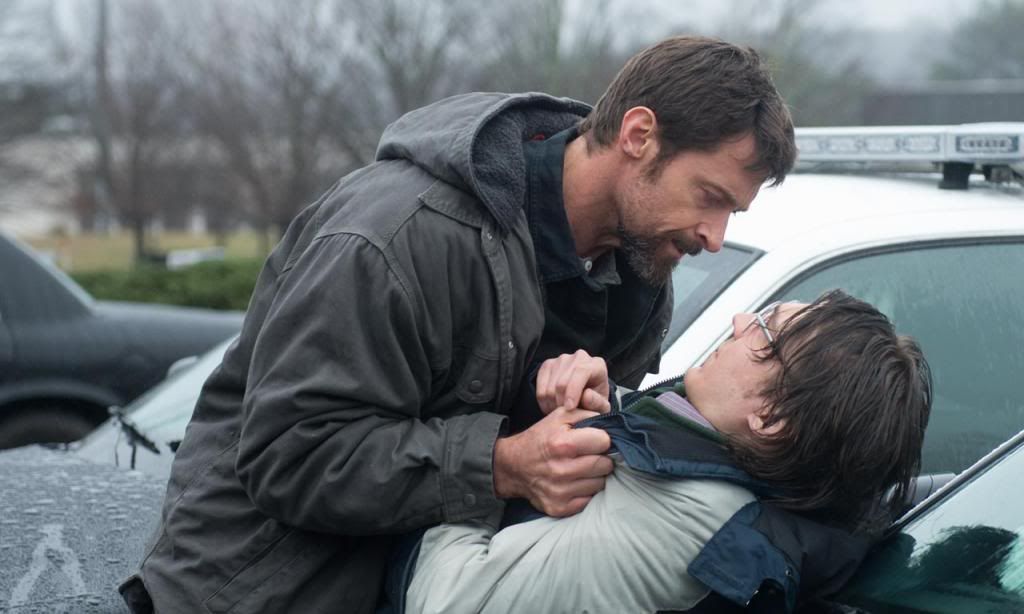 Opinion:
A-
By Jason Lin
A well-rounded production in terms of technical values and cast performance, Denis Villeneuve helms a script that is deeply invested in thematic plots and character studies. Despite keeping its audience prisoners for slightly over 150 minutes, Prisoners is emotionally taut and haunting to watch as it digs deeper into our inner souls and exploits human nature on the silver screen. Arguably Hugh Jackman's best career performance in what feels like one of the most compelling work of cinema this year.
Keller Dover is facing every parent's worst nightmare. His 6-year-old daughter and her young friend are missing, and as minutes turn to hours, panic sets in. The only lead is a dilapidated RV that had been parked on their street. Heading the investigation, Detective Loki arrests its driver, but a lack of evidence forces the only suspect's release. Knowing his child's life is at stake, the frantic Dover decides he has no choice but to take matters into his own hands. The desperate father will do whatever it takes to find the girls, but in doing so, may lose himself, begging the question: When do you cross the line between seeking justice and becoming a vigilante?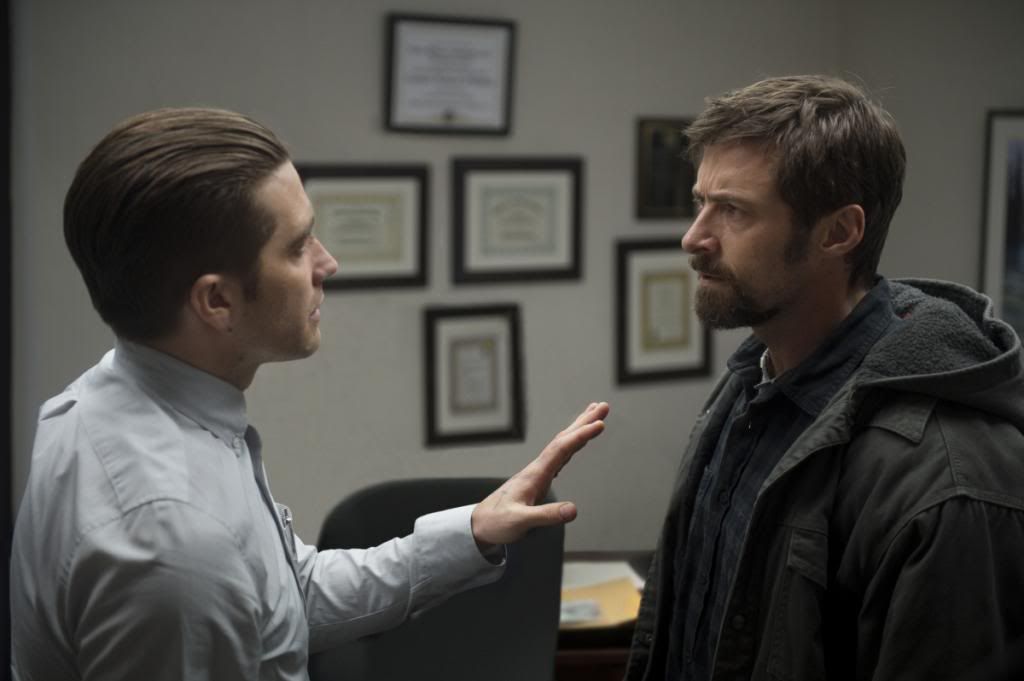 In what seems like a peaceful town far away from the hustle and influence of urban city woes, two families are seen joyously preparing for a Thanksgiving gathering. While it is a festive occasion that calls for a celebration, Villeneuve doesn't linger much in happy moments and instead quickly allows the film's main plot event to terrorise both families.
Prior to this, the film opens with a contextual opening scene where Keller Dover (Hugh Jackman) is teaching his son Ralph (Dylan Minnette) how to hunt. While Keller is heard whispering the Lord's Prayer offscreen, Roger Deakins moves his camera outwards very slowly from what seems like a deer's nice quiet afternoon to reveal a rifle barrel and the immediate revelation of the situation. It is an apt opening scene that allows the viewers to take in the contrast between violence and religion.
"My father had taught me to always be prepared for anything", says Keller to his son on their way home for Thanksgiving with the hunted carcass lying in the back of the pickup truck seen through the misty rear window. Keller's well-stocked basement is also reflective of his tolerance for error and mishaps. This is a good start to Villeneuve's character study of Keller, as he subjects him to the agony of losing his young daughter to a kidnapper in the midst of festivity.
Possibly one of the most demanding roles written in Prisoners, Keller undergoes a transformation to one who forgoes a number of moral values as he performs choices highly driven by the desperation of locating his daughter in sound condition. Kudos to Jackman as he burrows deep into his character's skin and loses himself there, much like how Keller loses his soul as the film progresses. It is arguably one of Jackman's best performance till date as he exchanges a great amount of emotions with consistency throughout the entire two and a half hours.
Inflicting unspeakable torment upon one in exchange for the slightest trace of hope in finding back one's missing daughter. How justifiable is it?
Again, the conclusion isn't that simple as Aaron Guzikowski takes his script further with more twists to exploit the dark side of human nature. One simply cannot underestimate the uncertainty of human nature through stereotyping. Yes, the film makes a successful attempt at preventing itself to be easily guessed and deciphered by the audience in advance. A good part of this is by manipulating one's prejudicial expectations through what is observed and subsequently deduced.
Does that make us prisoners of our own prejudice?
There are also subtle notions of people choosing the better of two evils by confessing their sins to God and in hope seeking His forgiveness for whatever mistakes they have made to be condoned. Is one losing one's soul by barter trading with one's inner devil or is it just an easy way out as it will be forgiven under the impression of understandable plight? Villeneuve allows the audience to decide albeit not an easy task.
Despite running at over 150 minutes, Villeneuve keeps the film's pacing comfortably taut and haunting at times through unnerving moments of tension. This is also achieved with the help of Deakins' influential camera work that moves and focuses in tandem with the mood of the film. Jóhann Jóhannsson, who has also won the Golden Horse Award last year for his work in Lou Ye's Mystery, scores very well by striking uneasy and rattling chords at the right frames without being too blatant.
It is however a pity that supporting cast such as Viola Davis didn't have much room for exploring potentials. Most of the film focuses on its lead characters Detective Loki (Jake Gyllenhaal) and Keller, who have both driven the film right up to its fullest potential and impact with accolade deserving performance. Other notable supporting cast performance include Paul Dano who plays the central figure of suspicion, Alex Jones, with his chillingly crisp breaths of whispers and Melissa Leo who plays his mother.
One of the most compelling films to watch in cinemas this year, Prisoners may well earn a couple of award season nominations for its direction, screenplay, cast performance, and perhaps cinematography.